AFNR Classes Offered at Chamberlain High School

If you are interested in any of the following classes come visit with Mr. Graves about it.

Animal Science ID Links

Spring CDE Links

Dairy Foods

AG Mechanics

Horse Judging

Livestock Judging

Natural Resources

Floriculture

Nursery Landscape

Justin Graves

Vocational Agriculture and FFA Advisor

Click here for the State FFA website

Click Here for the National FFA website

---

National FFA Week

4th Annual FFA Bale Toss

---

Upcoming Important Dates

February 17th - 21st - National FFA Week

March 4th - CDE in Howard

March 11th - CDE in DeSmet

March 19th - CDE in Flandreau

March 28th - Little I in Brookings

March 31st - CDE in TriValley

April 6th-8th - State FFA Convention
---
Chamberlain FFA received donations from Pfizer Animal Health through the Mid-River Veterinary Clinic, Pharmco of Chamberlain, and Mac's Corner.
Chamberlain Wheat Growers donated a free FFA Jacket for one Chamberlain FFA member.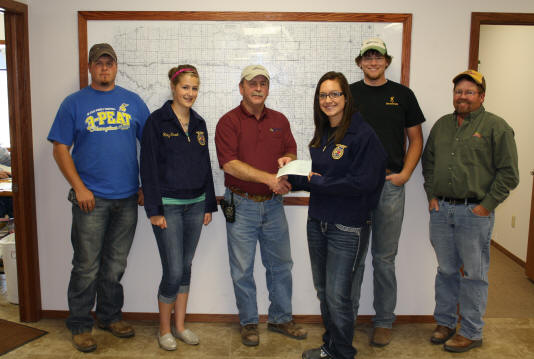 Pioneer Seeds and Tony Donovan donated funds to the Chamberlain FFA Chapter. Here are two members excepting the check from Tony Donovan.
Ten members of the Chamberlain FFA Chapter attended the State FFA Convention in Brookings on April 14th-16th, 2012. Here are some pictures from the event.
Dairy Judging Team
Ethan Swanson, Laura Schmit, and James Geppert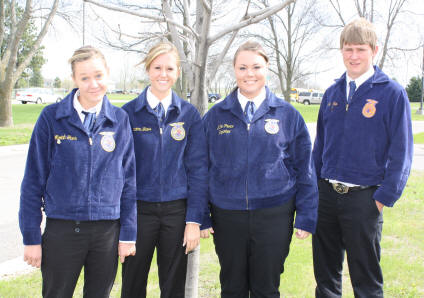 Horse Judging Team
Moriah Glaus, Savanna Glaus, Katie Pierce, and Teil Glaus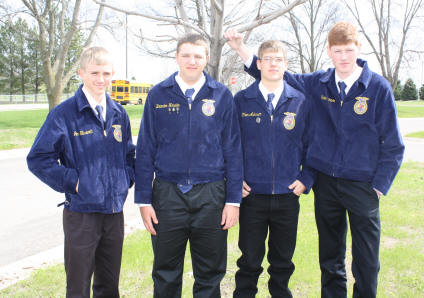 Natural Resources Team
Jim Bob Ellsworth, Brandon Houska, Ethan Adamson, Galen Swanson
Nursery Landscape Team
Corrina Reuer, Sheldon Stewart, Brady Bunker, Tyler Myers
---